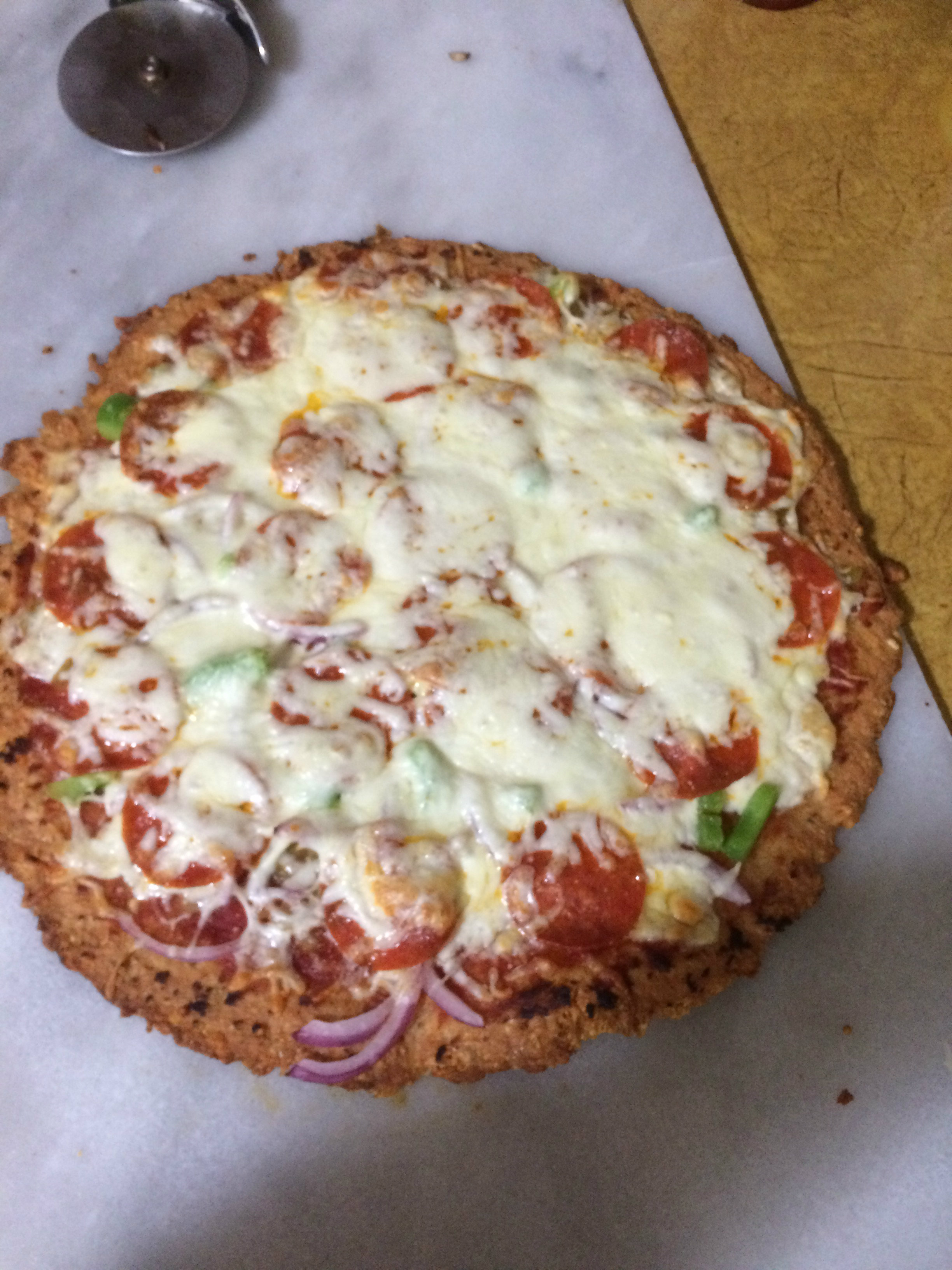 For those of us who are on a Ketogenic diet, or a low carbohydrate diet because of health reasons you will enjoy this pizza crust.
This took me a while to perfect because many of the recipes on line have so many variations, vague instructions, or were not measured to prepare for a family meal. The challenge I had was altering these recipes to work with my high altitude climate. Here is another discovery I have found: This dough will bake on either a well oiled pizza stone (I didn't have time to preheat mine) and cooks about 5 minutes faster, or on a pan with a silicon mat ( I still used a little avocado oil spray to make sure it comes off with ease). ** Do not use Parchment, in my experience it stuck to the dough**
I am happy to share this recipe with you.
This recipe will make 2-one pound dough balls for two 13" pies
I used my Cuisinart food processor first and then my Kitchen Aid Mixer with the paddle attachment to complete the process. I used a scale to measure ingredients and then verified with a measuring cup.
Equipment used:
Cuisinart Food Processor
Kitchen Aid stand mixer
Rolling Pin
Parchment paper
WELL OILED pizza stone
or lightly sprayed pan with a silicone mat
Ingredients:
**Two-12 oz cans of chicken drained or 3 cups white chicken meat
18 oz or 1 1/2 cup shredded parmesan cheese
12oz or 3 cups shredded mozarella cheese
2 eggs
Preheat Oven to 500 degrees
In a large pan spray with avocado oil, set to medium heat, add the chicken and season.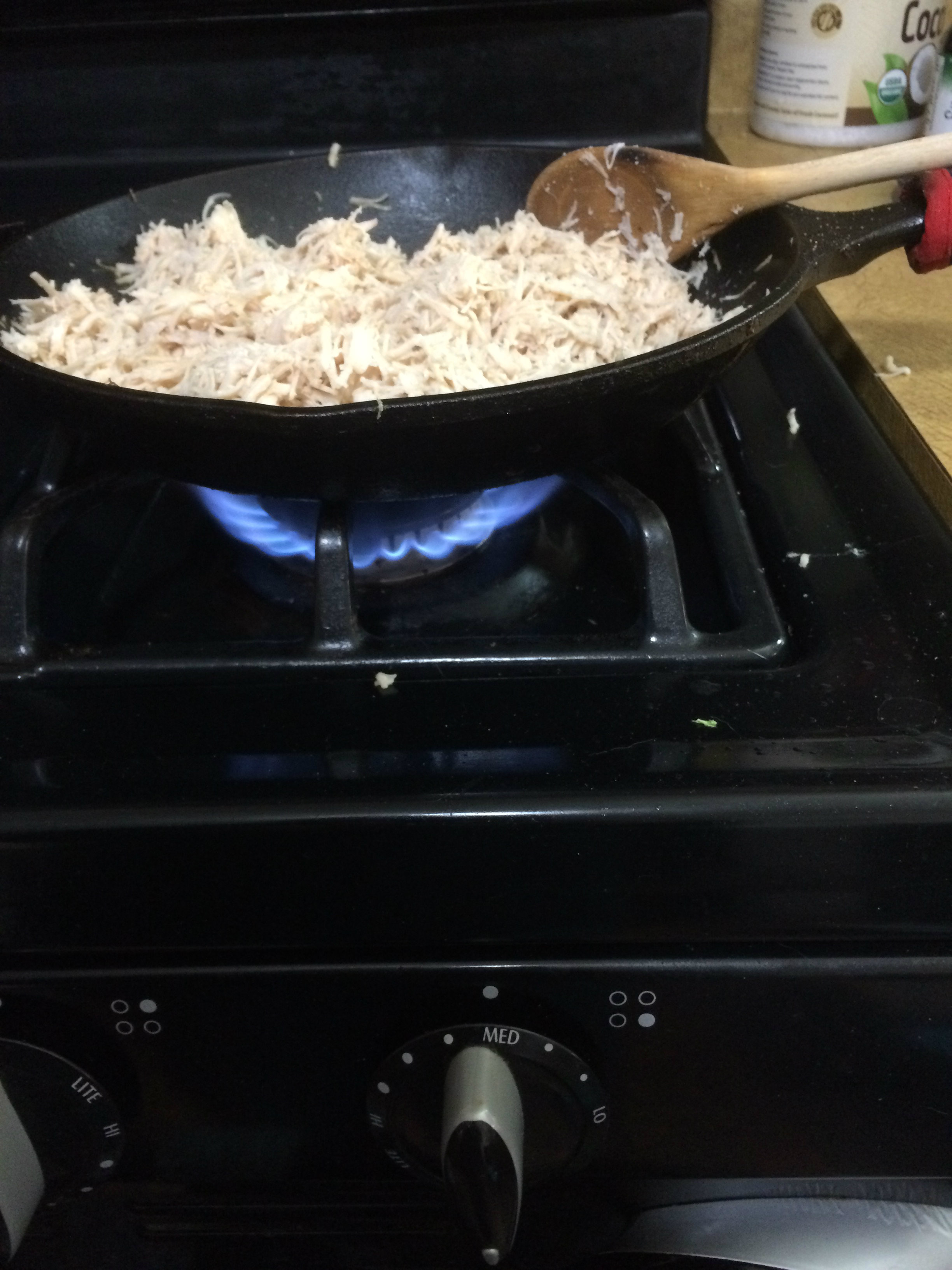 I added paprika, onion powder, garlic powder, cilantro, crushed rosemary, ground all spice, marjoram, ground corriander, himalayan pink salt and pepper during this process. Our goal for this step is to dry the chicken without burning it. This step can take up to 5 minutes. Stir until the moisture evaporates and then set chicken aside.
In a food processor add the cheese and process until the cheese is finely shredded. Now add the chicken and combine with the cheese mixture in the food processor until all ingredients are well shredded.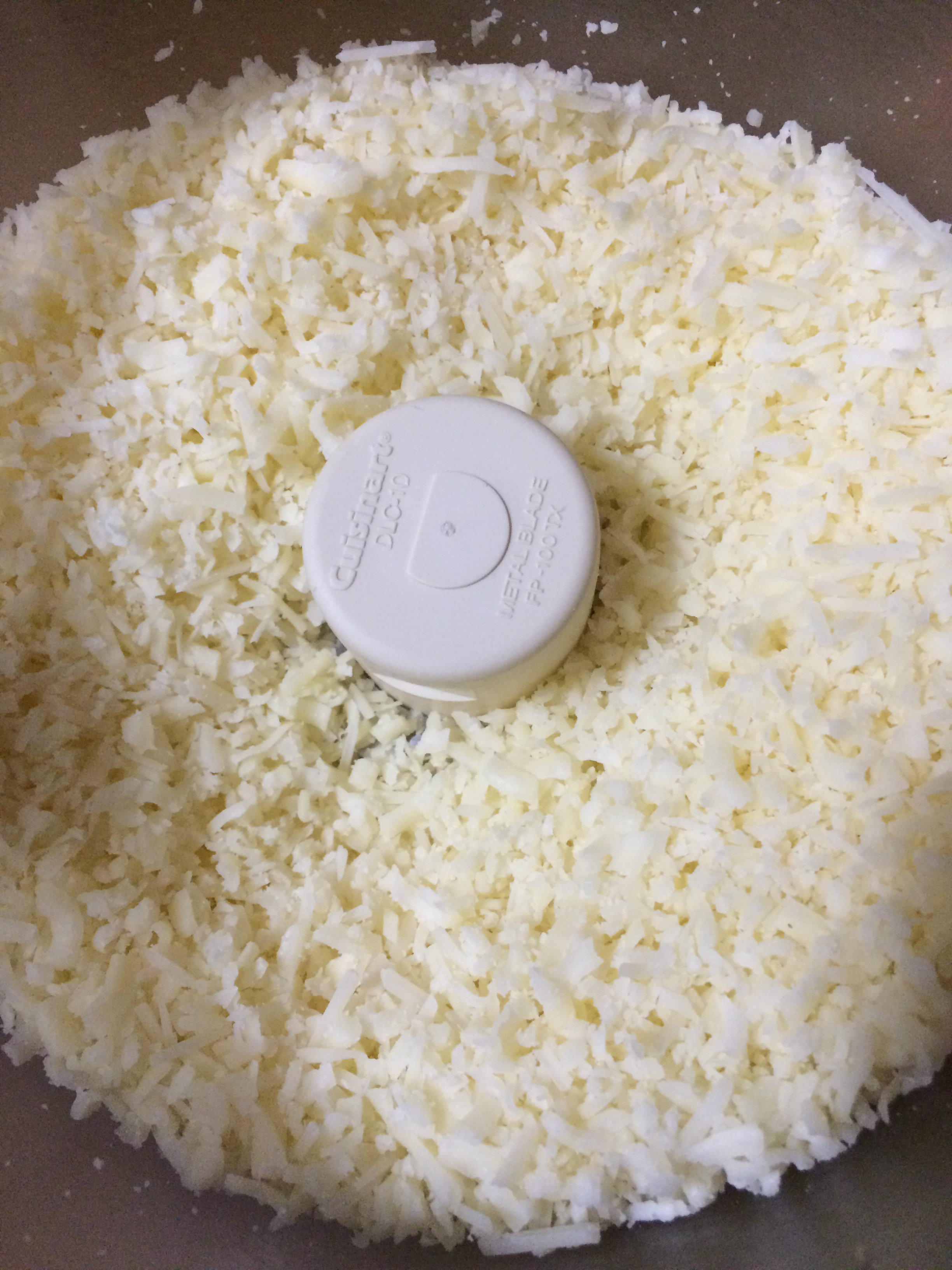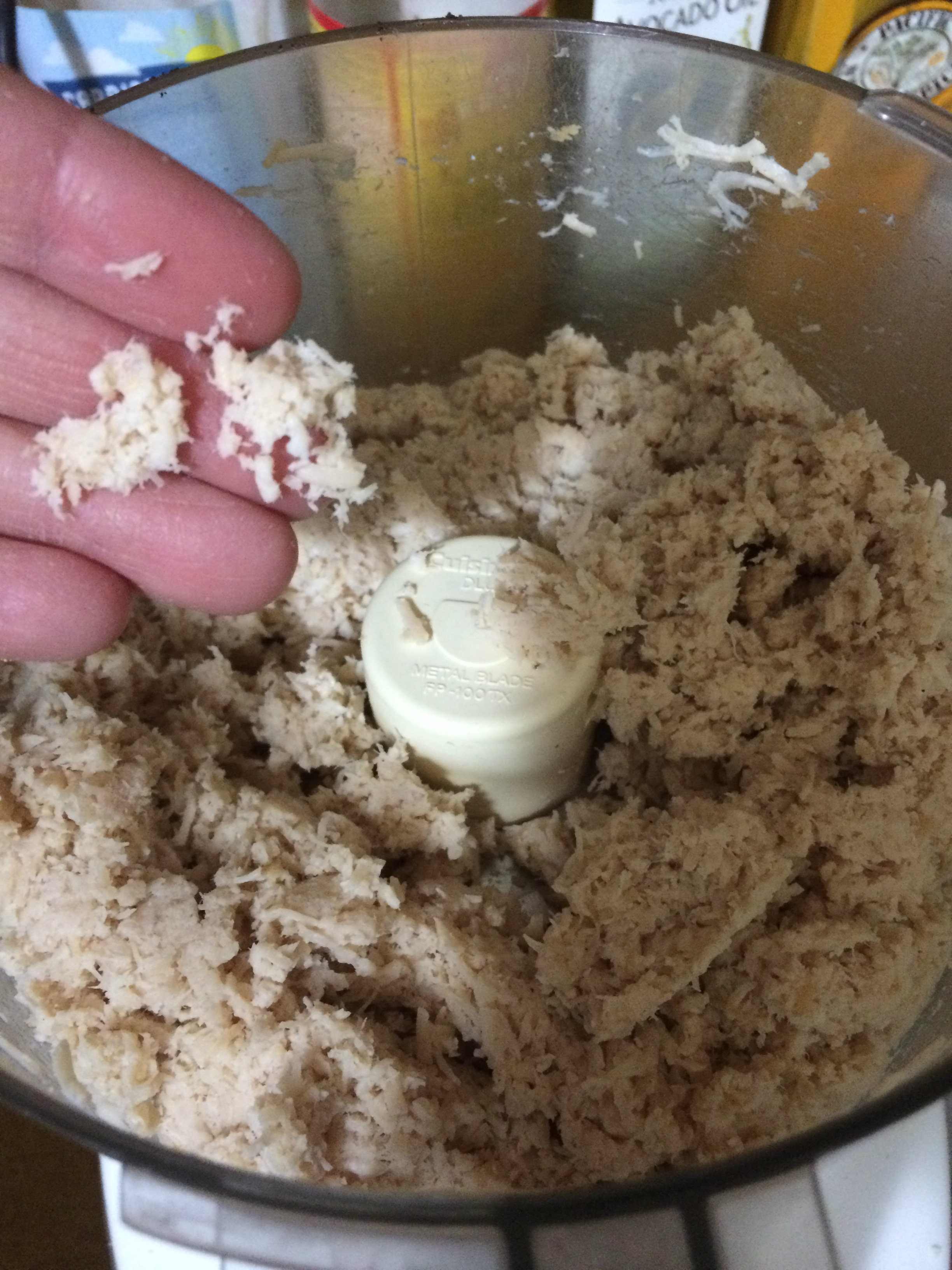 Next transfer the chicken/ cheese mixture into the mixer and add the two eggs. Combine ingredients until egg is incorporated and the dough clumps up into a dough ball.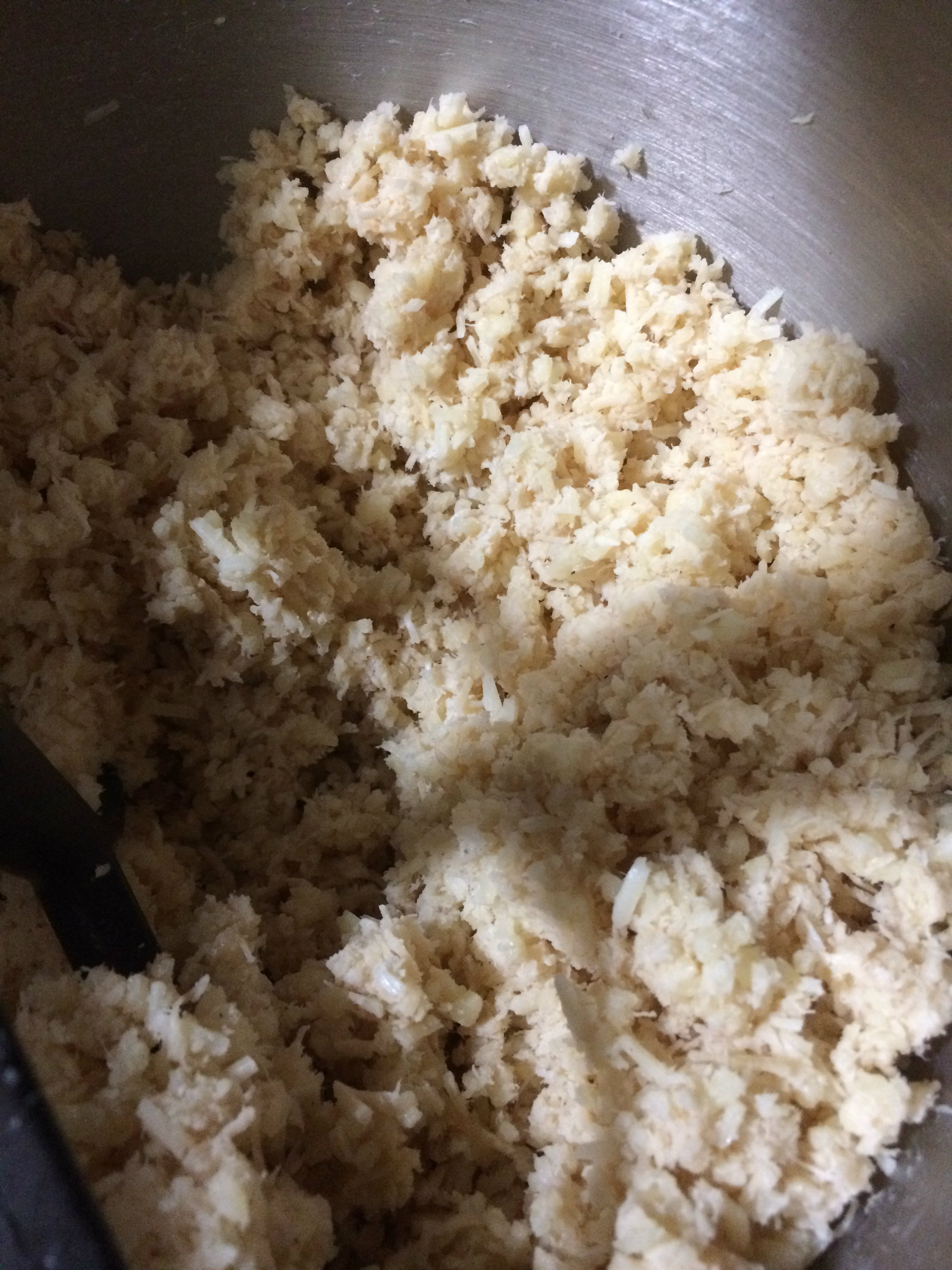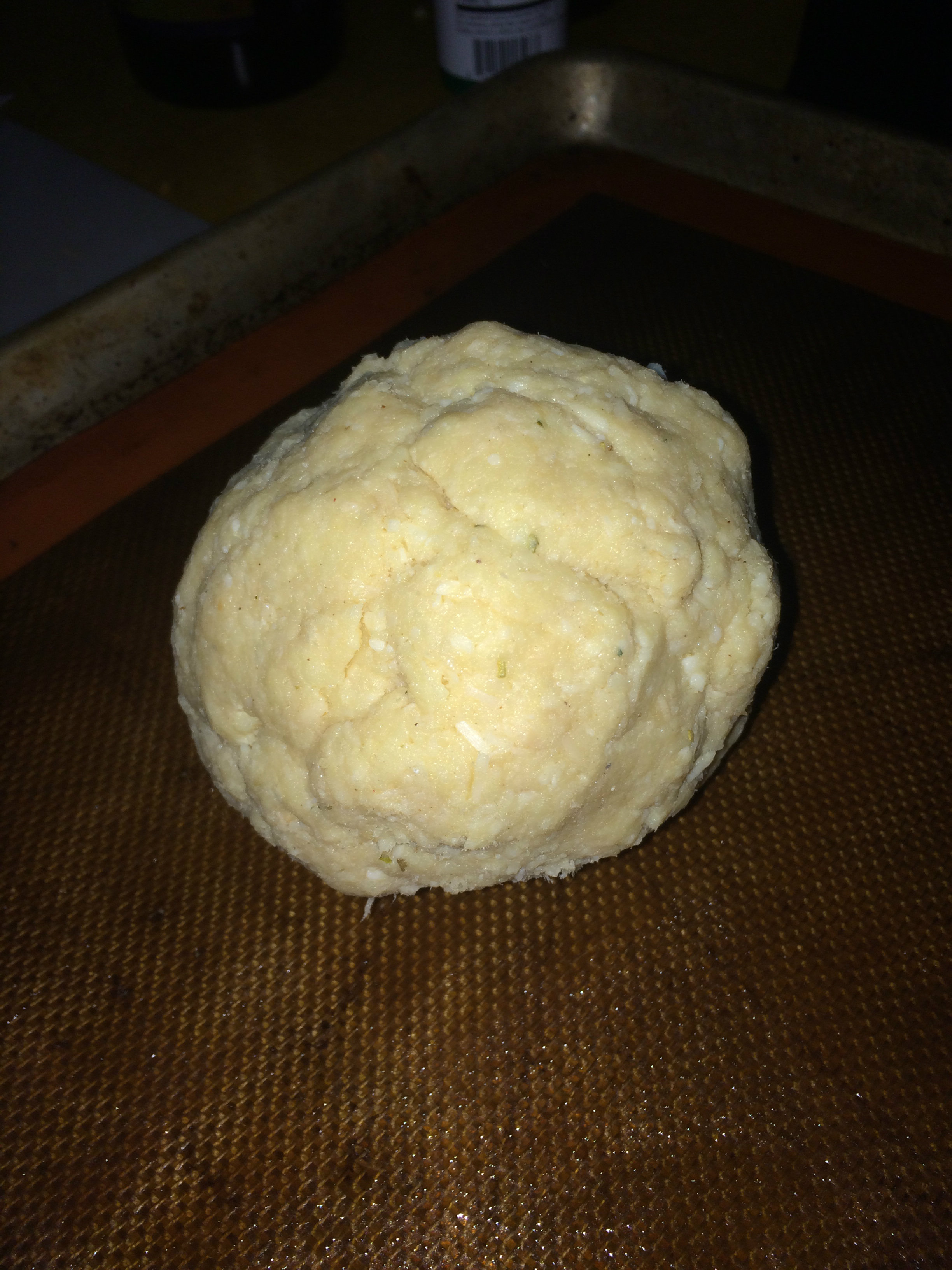 Measure dough ball to 1 pound per pie.
Using a well oiled COLD baking stone- place the dough ball on the center of the stone. Place parchment paper on top of the dough. Using a rolling pin, roll outwards making a circle. My family loves thin pizza crust so I covered the whole stone. Bake the crust for approximately 6 to 8 minutes.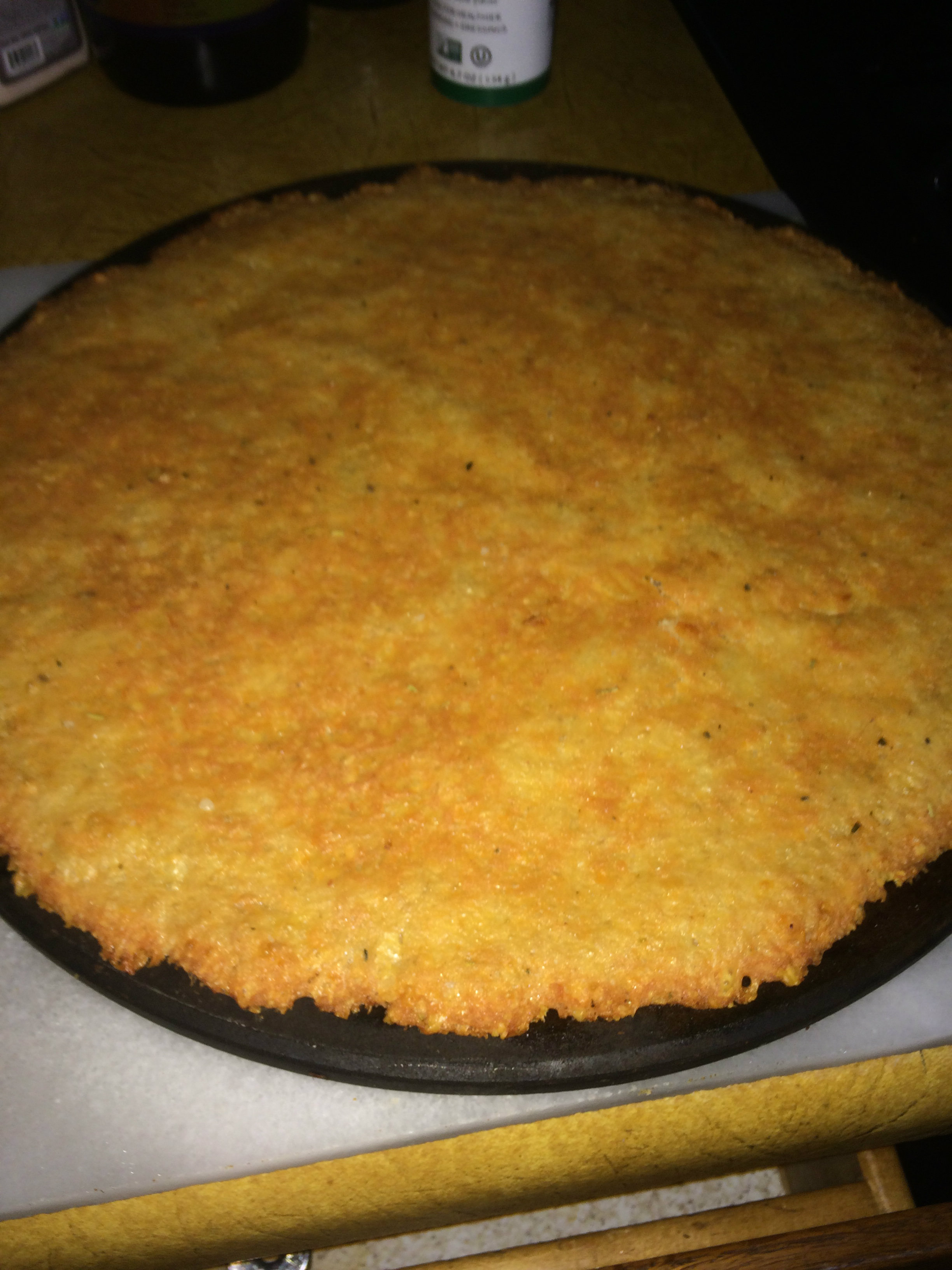 Using a baking sheet with silicone mat- place the dough ball on the center of the baking sheet. Place parchment paper on top of the dough. Using a rolling pin, roll outwards toward each end of the pan making a thin crust. Bake approximately 8 to 10 minutes at 500 degrees.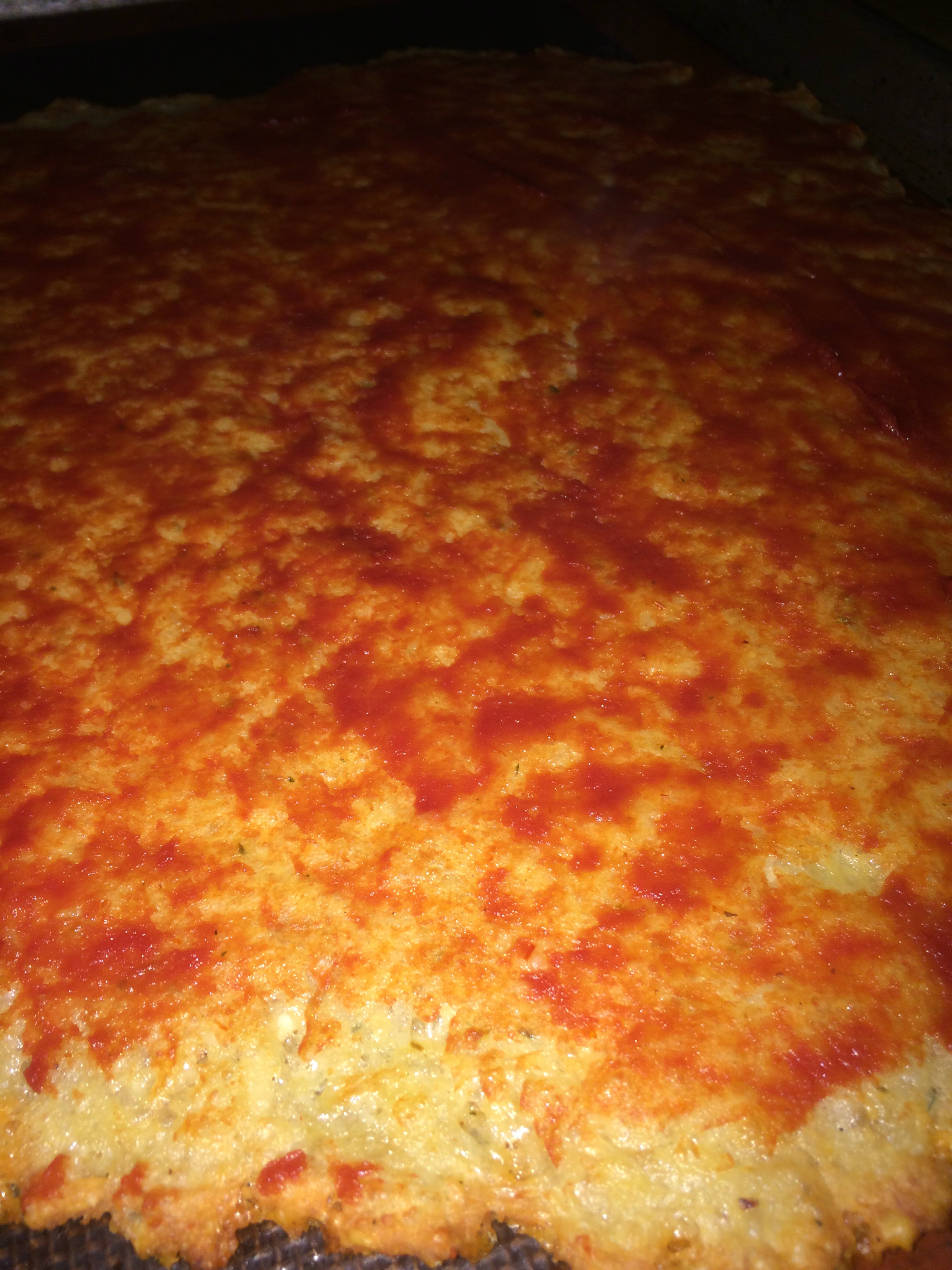 Remove the crust from the oven and add your toppings. I start with tomato sauce or tomato paste, add my green chile (omitted on my husband's pizza), then add a light layer of shredded mozzarella cheese, meat, veggies, a thick layer of mozzarella and bake until cheese over toppings are melted-approximately 7 minutes.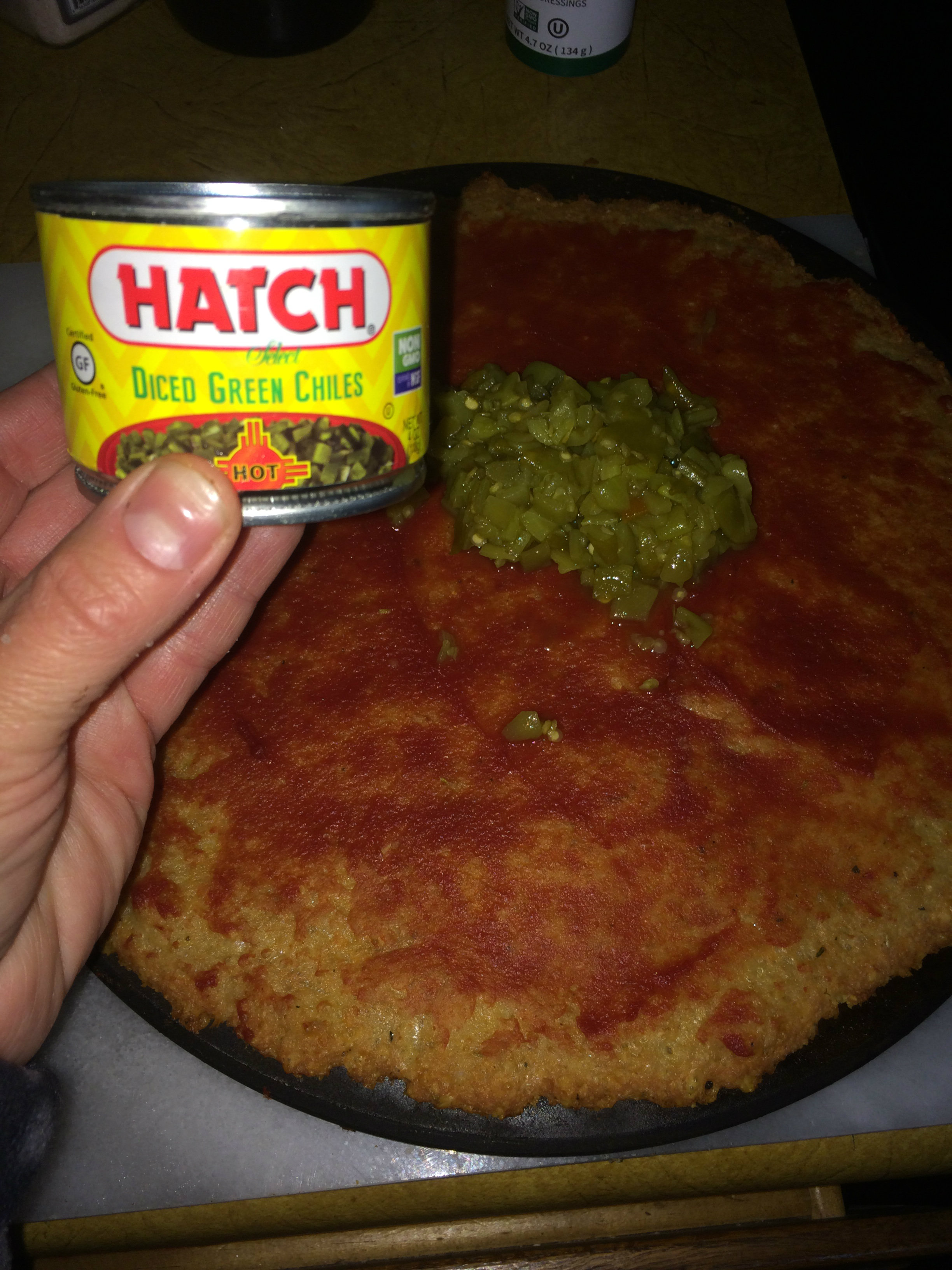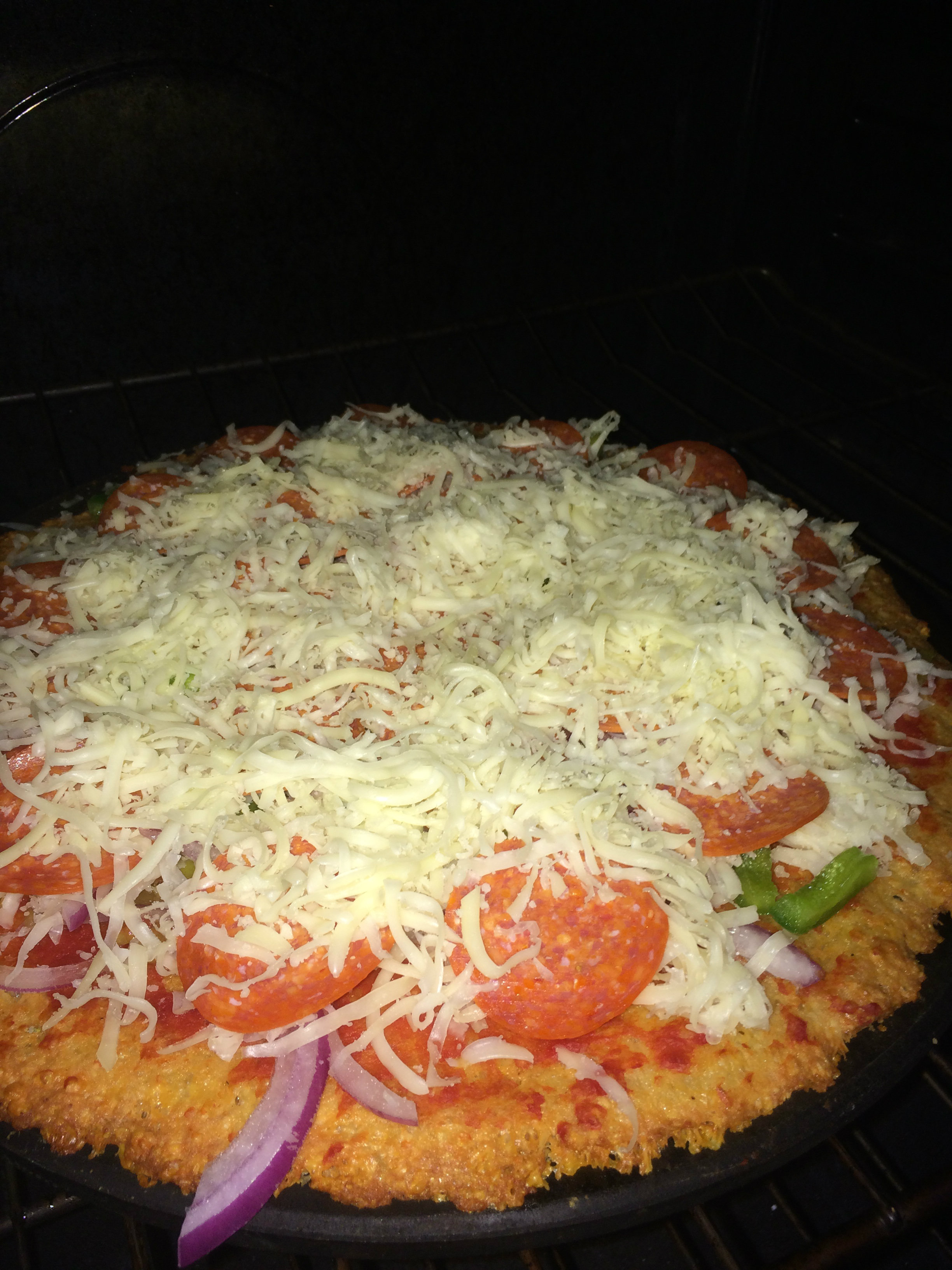 The cooler the pizza, the firmer the crust is. Leftover pizza stores well in the fridge. To reheat, I preheat the oven to 350 degrees and bake for 9 minutes or until warm.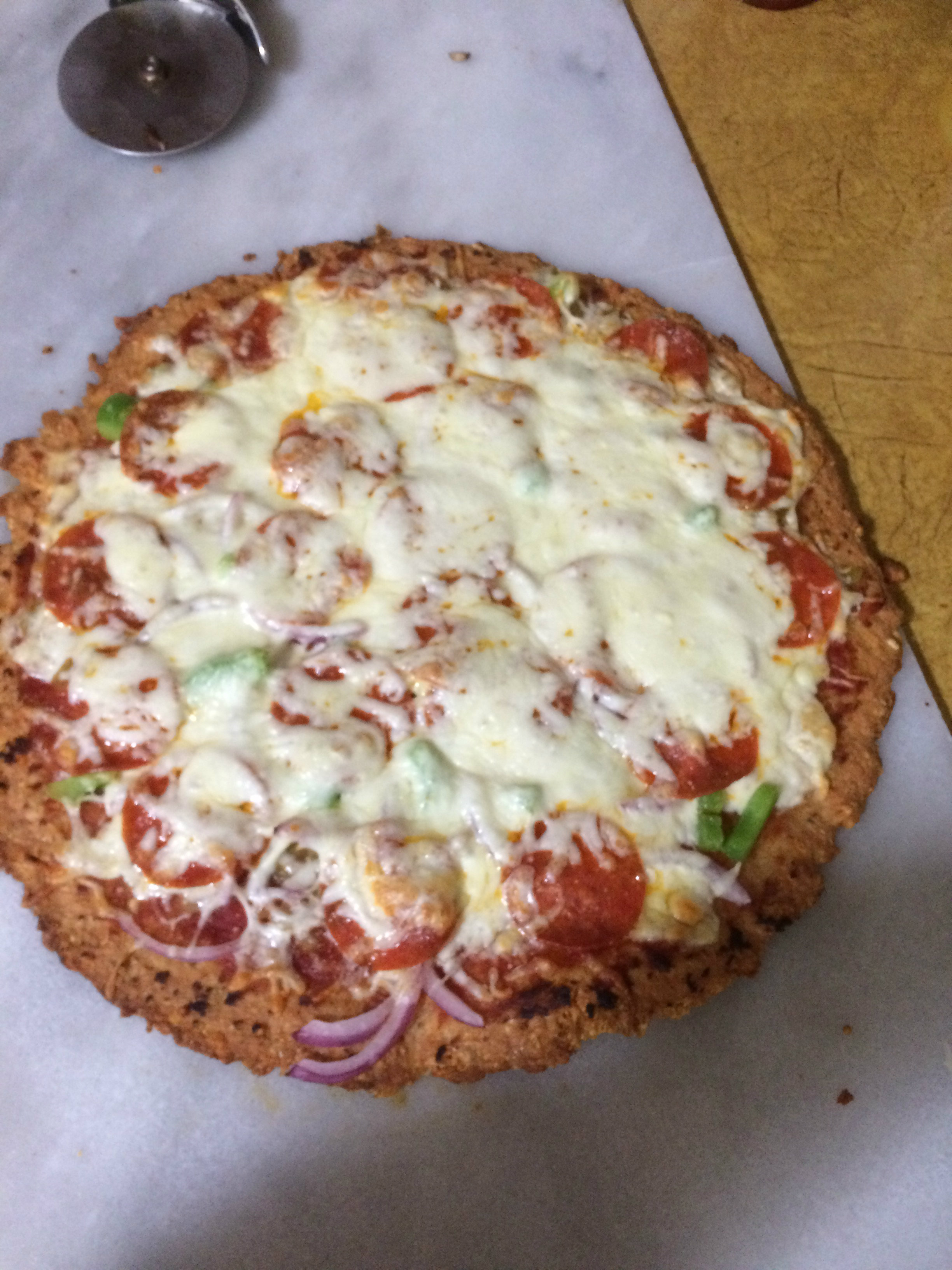 ** NOTE: If you are using the canned chicken makes sure to drain the liquid out we want the chicken to be as dry as possible which allows for a crunchier crust.