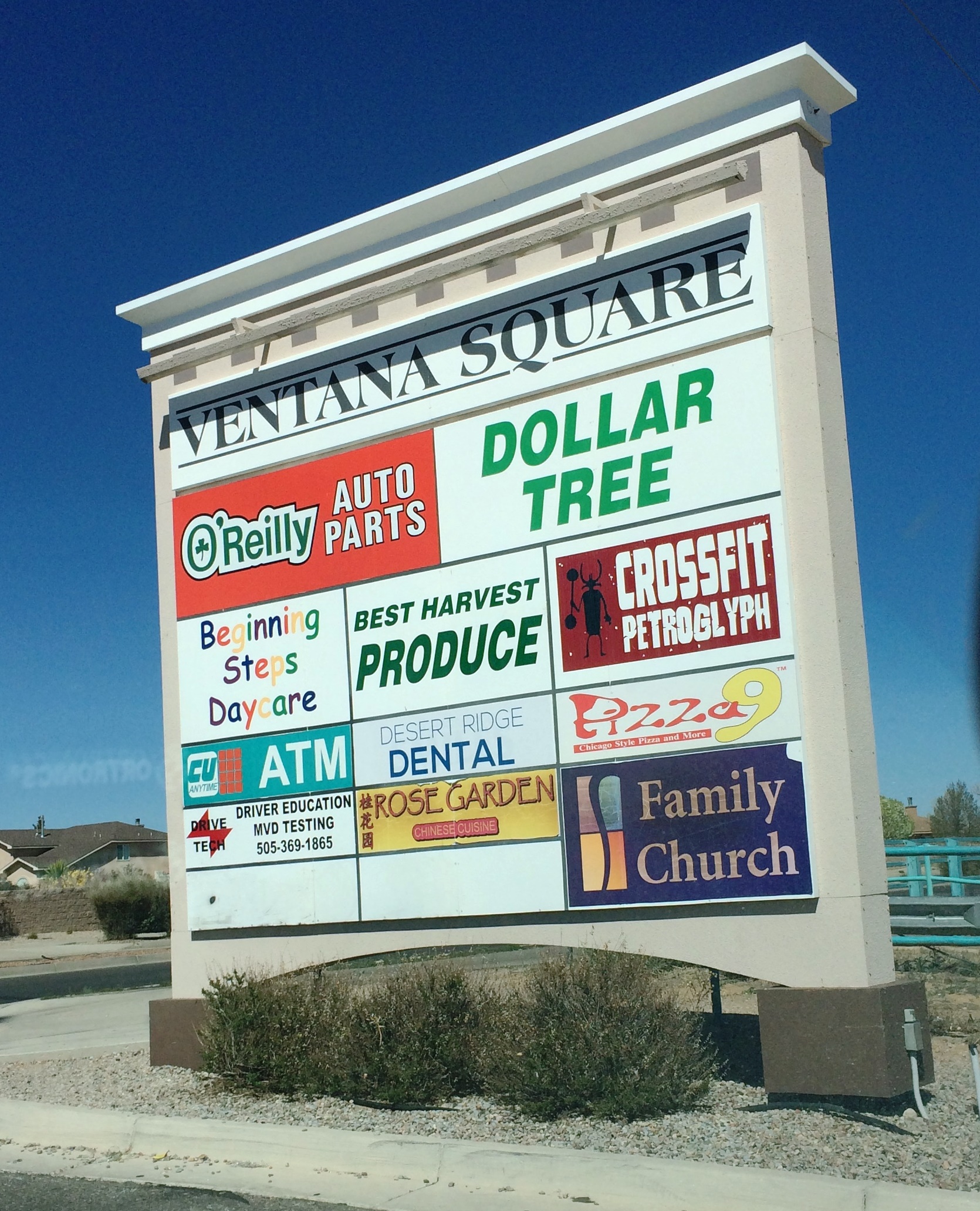 Ventana Ranch West neighborhood was built shortly after Ventana Ranch east was completed. This family and pet friendly community was one of the original planned communities on the west side of Albuquerque and sits just north of the Volcanoes and east of the Double Eagle Airport with beautiful views of the Sandia mountains.
Notice the well kept common areas with miles of bike trails, well lit streets, maintained sidewalks, community mailboxes, well maintained parks and friendly neighbors.
You have a Home Owner Association with monthly Home Owner dues along with covenants and restrictions. Ventana Ranch East has a community pool but this is NOT covered in the HOA dues and I last I recall Ventana West home owners were restricted on pool usage.
Enjoy the short distance to the neighborhood strip where you find Walgreens, Shell Gas Station, a Taco Bell, KFC, Little Anitas, Great Clips, BEBE nail salon, What A Burger, Bank of Albuquerque, Pizza 9, Rose Garden, homemade Beef Jerky store, Dollar Tree, Desert Ridge Dental, A church, Auto Parts store, and more shops coming.
I lived in Ventana Ranch for over 17 years. I lived in the Teresina subidivison located near Ventana Ranch Elementary School, the Sedona Subdivision at the far east end of the community off of Irving, and Cantabella subdivision directly across from the only town home complex in Ventana Ranch. We moved in when this new community was just being built in 1996 and it was really neat to see how much it has grown and developed.
Why did we leave Ventana Ranch?
The reason we moved out of Ventana Ranch was because of its restrictions. Particularly, we could not park our RV in our side yard. This was a big deal for us so we found an affordable older home with side yard access in an older neighborhood knows as "mortgage hills" or "Little Paseo" and it's the only patch of Bernalillo County inside of Albuquerque. We have the Bernalillo County Sheriffs department who respond, not APD, we have all our community services through the county and not the city.
We have resided for 5 years just outside of Ventana Ranch in Paradise Hills next to James Monroe Middle School and behind the baseball field.
We didn't move far at all but in "Little Paseo" community we are in a little piece of the county where you find the older homes, a less restrictive Owner Association and the ability to park your RV on the side of the house. I am within a 5 minute walk from Ventana Ranch's shopping strip. My parents and my youngest sister still live in Ventana Ranch.
More about Ventana Ranch and Ventana Ranch West:
Area Schools School Type Phone Distance
Heights Adventist Elementary School Private/K-7 (505) 459-5043 0.3 mi Ventana Ranch Elementary School Public/K-5 (505) 880-3744 1.4 mi Colinas Del Norte Elementary School Public/PK-5 (505) 896-0667 1.5 mi Tierra Antigua Elementary School Public/K-5 (505) 880-3744 1.8 mi Tony Hillerman Middle School Public/6-8 (505) 792-0698 1.9 mi Volcano Vista High School Public/9-12 (505) 880-3744 1.9 mi
Paradise Christian School Private/K-12 (505) 898-4508 2.2 mi
James Monroe Middle School Public/6-8 (505) 880-3744 2.3 mi
Sunset View Elementary School Public/K-5 (505) 880-3744 2.3 mi
Sierra Vista Elementary School Public/K-5 (505) 880-3744 2.7 mi
Puesta Del Sol Elementary School Public/K-5 (505) 896-0667 3.3 mi Chamiza Elementary School Public/K-5 (505) 880-3744 3.7 mi
Marie M Hughes Elementary School Public/PK-5 (505) 880-3744 3.9 mi Gospel Light Baptist Academy Private/PK-12 (505) 892-9463 4.1 mi Maggie Cordova Elementary School Public/K-5 (505) 896-0667 4.2 mi Petroglyph Elementary School Public/PK-5 (505) 880-3744 4.2 mi
St Thomas Aquinas School Private/K-8 (505) 994-3369 4.2 mi
L B Johnson Middle School Public/6-8 (505) 880-3744 4.3 mi
Trinity Christian Academy Private/K-11 (505) 899-2337 4.5 mi
Cross of Hope Elementary School Private/PK-5 (505) 897-1832 4.6 mi
Area Restaurants Name Type Distance Rating
Rose Garden Fast Food, Chinese 1.73 mi 42 reviews
Pizza 9 Pizza 1.73 mi 16 reviews
Taco Bell Fast Food, Mexican, Tex-Mex 1.73 mi 5 reviews
KFC Chicken Wings, Fast Food 1.76 mi 7 reviews
Blake's Lotaburger Burgers 1.77 mi 23 reviews
Subway Sandwiches, Fast Food 1.77 mi 1 reviews
Little Anita's New Mexican Foods Mexican 1.81 mi 25 reviews
Bob's Burgers Fast Food 1.82 mi 14 reviews
Domino's Pizza Pizza, Chicken Wings, Sandwiches 1.82 mi 7 reviews Bombing Range Cafe Cafes 1.94 mi 2 reviews
Little Caesars Pizza Pizza 2.95 mi 1 reviews
Ironwood Kitchen Comfort Food, American (Traditional) 3.51 mi 62 reviews
McDonalds Fast Food, Burgers 3.52 mi 3 reviews
Einstein's Bros Bagels Breakfast & Brunch, Bagels 3.7 mi 19 reviews Desert Greens Bar And Grill American (New), Sports Bars 4.01 mi 3 reviews
Blakes Lotaburger Burgers 4.03 mi 22 reviews
Stephanie Romisher-Webb | Latte Stone Realty, LLC | P.O. Box 72902 | Mobile: 505-803-1872